Introducing the AeLa Anticapitalist Aid Program
The only AAA we're interested in
As individuals we strongly believe that the forces of capitalism incentivize exploitation and an inherently inequitable society. We formed AeLa as a cooperative in an effort to avoid the usual cycle of labor exploitation for the enrichment of business owners and instead give every member an equal stake and say at the table, establish sustainable and compassionate labor practices, and ideally inspire others to do the same. As a cooperative, our business structure is fundamentally anticapitalist and we do business in part as a form of social activism. We are one of many organizations throughout history to try to work not only outside the bounds of capitalism, but explicitly against it.
For a long time now, our team has had a goal of supporting activism and charities in our hometown of Rochester. Unfortunately, we've never had the stability to do so without risking the financial security of our members. Being that sustainability and security is one of our top priorities, we deferred until we felt that the time was right.
After 4 years, we've finally hit a level of stability that enables us to start this kind of support! We're still a very scrappy indie studio, and we're definitely far from rich, but we have more confidence than ever in our future, so it's time to start giving back.
Our goal with the AAA program is to donate what resources we can to local organizations engaged in anticapitalist activities. We're starting the program by donating 75% of revenue from our Unity Asset, Easy Feedback. Easy Feedback helped AeLa have any kind of budget for internal projects while we were scrambling to keep the lights on with client work over the years. Today, we're happily in a place where we no longer need this extra revenue. Based on previous years, this should work out to be about $750-1500 annually.
We believe our local community is where we can make the greatest impact, and there is a slate of organizations in Rochester doing work that we'd love to support. But we don't want to spread resources too thin, so we're starting small and working up from there as we can.
So, we're kicking off the AAA program by partnering with the Rochester Mutual Aid Network! This is an organization that each of our members have supported personally, and we've seen firsthand during the protests in the aftermath of the police murders of George Floyd and Daniel Prude how effective their work can be.

RMAN's mission is simple in concept: connect those in need of aid with those who can offer it. RMAN is run democratically and transparently by a group that is composed exclusively of volunteers, they have no board of directors, and they have almost no administration costs. They provide support in the form of grocery delivery for those in need, connecting those in need of a ride with drivers, free skill shares (from bike repair to first aid and narcan training), maintaining Rochester's network of free food stands, and much more.
RMAN also stands out for the work they do to support other organizations that share their values. Don't just take it from us:
We will use our platform and volunteer base to support other organizations that uphold values in which we believe. We'll stand alongside these organizations in our combined struggle for the following:

Housing, food, and healthcare as human rights
Against all types of racism in our community. We all live in a white supremacist settler state located on stolen land with a centuries long legacy of racism.
Against fascism, which has no home in our organization, our community, or our world
Equality, accessibility, and inclusion of disabled people, and against ableism
The abolition of police and the prisons and a reinvestment of those resources into services that actually help the community.
Worker ownership and democratic control of the workplace
The responsible stewardship of our planet, an end to climate change, and the end of the exploitation of our planet for profit.
This is all to say we believe our support will not only go a long way but it will be in the right hands.
Each month, we'll post the amount we donated along with the self-bill we receive from Unity which lists our revenue from the Asset Store for the month. With that, here's the self-bill for our first donation of $105 to RMAN!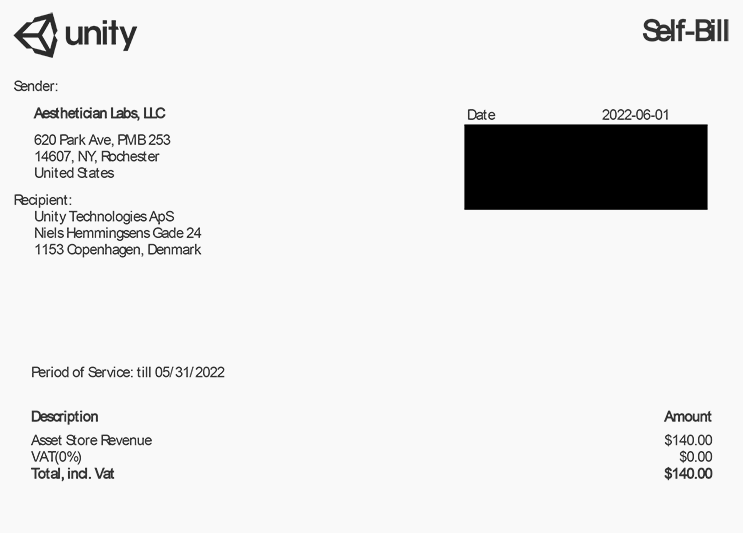 Please read more about RMAN and consider getting involved here!