We are Aesthetician Labs
A worker-owned games cooperative based in beautiful Rochester, NY.
Read More
Aesthetician Labs (pronounced "es-the-tish-en") is a worker-owned games cooperative based in beautiful Rochester, NY. We founded Aesthetician Labs in 2018 after winning the New York State Game Dev challenge with our game, Crazy Platez. Our team has experience building games for many different platforms including desktop, console, mobile, and beyond. We've even built an arcade cabinet!
We want to make games that are silly, whimsical, and subversive while still being sincere, uplifting, and accessible for everyone. As queer creators, we bring our experiences and perspectives into the stories we tell. We're interested in creating experiences that explore identity and contradiction, collapse distances, and embrace radical optimism.
We're children of the internet. We grew up during the golden era of Flash games and as designers, we cut our teeth on game jams like Ludum Dare and Global Game Jam. We've spent years honing our skills building games inspired by online culture, and we continue to bring the quirky, tight, and juicy energy of the Flash era to the games we make today.
Our core mission as a cooperative is to enable our members to focus on their creative passions by cultivating a secure and sustainable environment. AeLa's goal is to serve as a "shield" from capitalism with equitable pay, security, and compassionate production schedules that best support our members.
We're also committed to consensus-based operations, transparency, and accountability. We each have our specialties, but everyone has a voice and a vote when it comes to the decisions we make. We believe this makes for both stronger work and better working conditions for our members.
Voting accessibility was a major issue on the ballot in the 2020 US General Election and media agency Partners + Napier was looking for an engaging way to represent that for their voter engagement campaign, The Vote Needs U.
We worked with P+N to build an award winning game within a tight (and understandably immutable) timeline. It communicates the frustration felt by disenfranchised voters, and drives players to take action by making it easy to register to vote.
Awards & Recognition
Letiman Games and Jon Merchant asked us to help them bring their innovative 1-4 player tile laying table top game to Android and iOS in a way that would make it feel like it was designed to be there in the first place.
The result? A game that "does a wonderful job of capturing the feeling of the original game" while improving on UX issues in the physical game. But we didn't just develop an excellent mobile adaptation of the original game, we also worked with Letiman and Jon to add mobile-exclusive features like challenges, achievements, leaderboards, unlockable content, and more while still staying within their budget.
Awards & Recognition
After the release of Crazy Platez we honed our rapid prototyping, design, and development skills in partnership with a leading hypercasual publisher. Although we're moving away from hypercasual today, we are still proud of the 70+ prototypes developed during our year and a half in the market. We've developed robust systems for rapid prototyping and design, and these prototypes provide a well of inspiration for the games we're making today.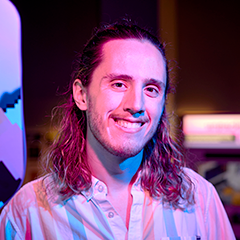 Aidan Markham
He/Him
Lead Artist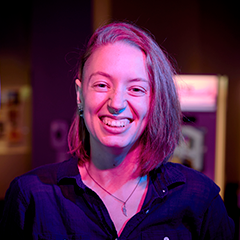 Sam Cammarata
They/Them
Operations Manager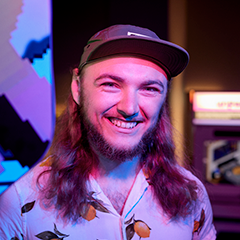 Noah Ratcliff
They/Them
Lead Developer
Services
Let's work together
We bring fresh creative energy to every project we work on and we love to take on new challenges. No matter how big or small, we can help you bring your ideas to life!
Rapid prototyping & design
We can help you generate and prove new ideas lightning fast. Whether you need consulting, implementation, or the full package, we're ready to help!
Programming
Need a hand with a technical problem or just development support? We've got you covered!
3D modeling & rendering
Is your asset list overwhelming? We can provide prop and environment modeling, UV mapping, texturing, lighting, and more!
Mobile porting & adaptation
We have years of experience with both iOS and Android. Let us help you get your digital or physical game on these platforms!
Testimonials
Who we've worked with
AeLa went above and beyond in creating our Squire for Hire App. They were willing to work with us to implement all of our needs and more. They even went above and beyond and were willing to adapt to work beyond the scope of our agreement while still delivering on schedule.
Dan Letzring
Letiman Games